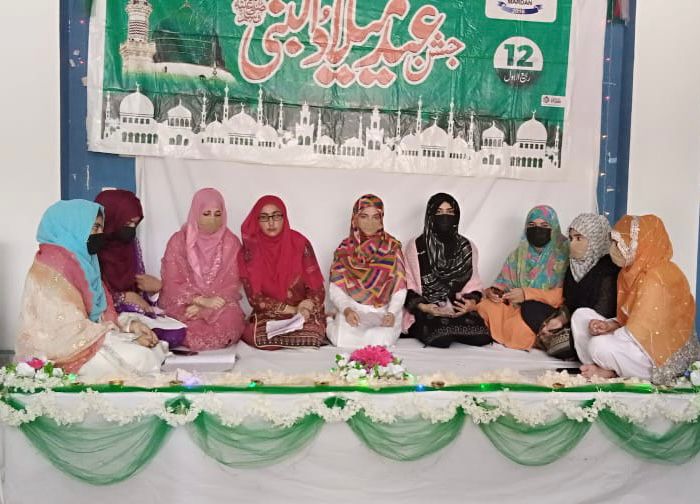 Jashn-e-Eid-e-Milad-un-Nabi (S.A.W.W) was celebrated at Women University Mardan
Jashn-e-Eid-e-Milad-un-Nabi (S.A.W.W) was celebrated at Women University Mardan on a Thursday, and the event was marked by an overwhelming display of religious zeal and fervor. The primary purpose of this celebration was to commemorate the 12th of Rabiul Awal, a date of immense significance for Muslims worldwide as it marks the birth of the beloved Prophet Muhammad (PBUH).
This event served as a powerful testament to the unwavering faith and dedication of the university's community in their commitment to honoring the life and teachings of the Prophet. The celebration was characterized by a diverse range of religious activities, including heartfelt recitations of Naat, Durood (blessings upon the Prophet), and collective Duaa sessions. These activities provided attendees with a profound platform to express their deep love and admiration for Prophet Muhammad (PBUH) and to seek blessings for themselves and the entire Muslim Ummah.
Eid Milad un Nabi, on this occasion, served as a poignant reminder of the importance of renewing one's allegiance to Rehmatul-lil-Alameen Hazrat Muhammad (Peace Be Upon Him).
The Honorable Vice Chancellor of Women University Mardan, Prof. Dr. Ghazala Yasmeen participated in the event as the chief guest. During the event, the Vice Chancellor emphasized the university's unwavering commitment to providing a holistic educational experience that encompasses spiritual growth and cultural enrichment.
The meticulous organization of this event was a credit to the Islamic Society of the university, under the guidance of the head of the Islamic Studies Department, Dr. Rashida Parveen. Their dedication showcased an unwavering commitment to promoting religious and cultural activities that contribute significantly to the holistic development of the university community.